Skip to Content
Pioneer in wire rope pressure lubrication
By Thomas G. Dolan
Not many people can say they've made a lasting contribution to the industry. Bob Kirkpatrick is one who can. This is how he did it.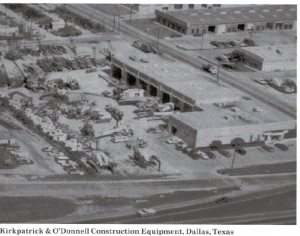 "There's got to be a better way," Bob Kirkpatrick recalls saying to his service manager in the summer of 1981 as they watched a mechanic climbing up and down a crane boom attempting to lubricate 1,000′ of hoist rope with a spray can similar to a Hudson concrete sprayer. The ropes were being serviced because the crane was going to be exposed to ocean spray during its 3-month transport to a customer's jobsite in Africa. Our mechanic was using a low viscosity lightweight oil, and it was getting on our cars and service trucks, misting everywhere.
Kirkpatrick was not simply making an idle observation, for the inefficient lubrication was affecting him directly as it did all wire rope users during that period. To step backwards in time to the start, Kirkpatrick grew up in the pipeline industry. His father had initially established their family owned heavy construction equipment business, Kirkpatrick & O'Donnell Const. Equipment to support the construction of the Alaska Pipeline and other major pipeline projects in the late 1960's and early 1970's. Kirkpatrick states, "A majority of the swing machines (excavators/cranes) used in the building of the project were purchased or rented directly from Kirkpatrick & O'Donnell in Dallas and/or its branch office in Calgary, Alberta.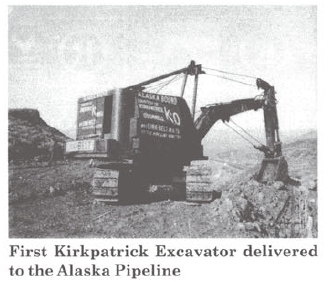 After attending Texas Tech and Austin College, he graduated with a business degree from Austin College. He then went to work for the family business in 1974. Kirkpatrick worked his way up to the position of executive vice president in charge of a sales force that was responsible for the marketing support of a rental fleet of over 400 heavy lift cranes. These machines were involved in many different lifting applications worldwide. One of the main concerns with a fleet this large and as widely dispersed was that of wire rope maintenance and safety. Corrosion and friction wear was difficult to control due to the many different job environments in which the cranes were working. Some of the equipment had rental periods of two years or more. "As a result we were absorbing hundreds of thousands of dollars in unnecessary wire rope replacement expense each year. We did our best with maintenance methods available at that time. However, we believed better wire rope maintenance should be possible before the equip­ment left the yard. There were no guarantees that local personnel 10,000 miles away would follow prescribed wire rope maintenance guidelines. Therefore, we really needed to do a solid number on the wire rope before the equipment left," Kirkpatrick states.
"The pendant lines that support the crane boom were of major concern, he explains, "because they had to be completely reliable for the period of the equipment's lease. In fact, we had a 150-ton crane over turn during rental because of a snapped pendant line. The core had turned to powder while the outside looked practically new. The customer stated he had used an aerosol spray can to apply the wire rope lubricant. Fortunately, no one was injured. At the time most wire rope maintenance was typically performed manually by hand or mechanically through a spray method," he states.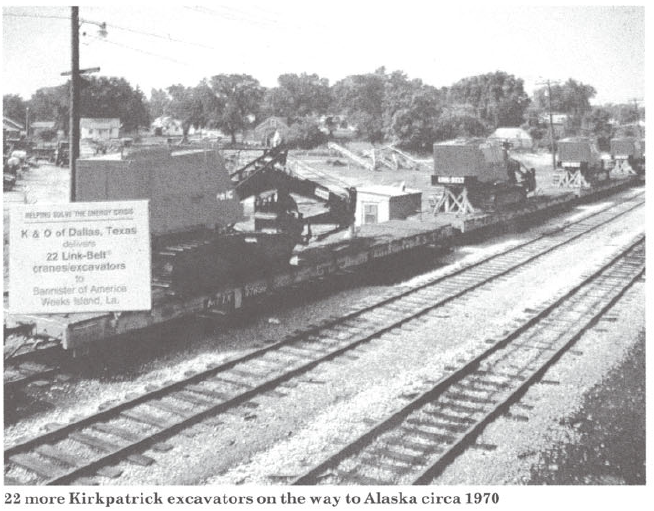 Even though both methods were the best available in 1980, neither offered consistent protection against friction/corrosion wear within the internal strands of the wire rope. The manual hand method, where a high viscosity lubricant is typically applied to the wire rope surface offered less lubricant loss with better fluid film protection between the wire strands. However, without a method to penetrate it into the internal strand configuration, it basically stayed on the surface of the wire rope. The spray application method utilizing low viscosity lubri­cants was messy, involved a great deal of lubricant loss, and provided minimal fluid film support between the strands. There was never any assurance that optimal protection levels were being achieved with either method.
Kirkpatrick developed his high-­pressure applicator to address the aforementioned criteria in 1981. The basic concept, at least in theory, is simple. A lubrication collar is clamped around the wire rope, creating a controlled pressurized environment within specially designed polyurea seals. You can either have the collar move over the wire rope or the wire rope pulled through the collar. But the result is that the lubricant penetrates the wire rope evenly and thoroughly. A 2,000′ job that might previously take a full day to be done inefficiently could now be performed efficiently in about 20 minutes, or at the rate of 100 feet or more per minute.
Kirkpatrick was initially contacted by an old college friend who requested he review a system that was just being developed overseas by one of his friend's overseas real estate investors. The system introduced to Kirkpatrick was developed for low viscosity applications and had not been tried for greases. In fact, there was some question whether it had ever been tried at all. "I remember the first time we attempted to use it, it had been delivered with no operating instruc­tions because they had not yet been written. Several of us were sprayed with oil ruining some very nice suits as we observed our service personnel attempting to use it on a crane load line." Still he saw how, with proper seals and other improvements the system could work for his crane fleet so he purchased the rights. It didn't take much time for his engineering depart­ment to redesign it into a viable system utilizing his crane fleet and local U.S. Army Corps of Engineers' dam sights for testing purposes. "I thought I was doing my friend a favor and it was the other way around," he said.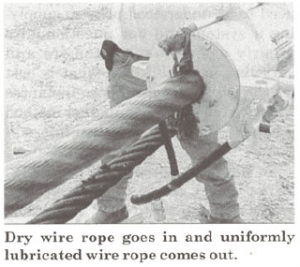 The system worked so well it started taking on a life of its own. So, Kirkpatrick, with his father's blessing, left to form his own company in 1982, The Kirkpatrick Group, Inc., based in Plano, Texas a suburb of Dallas, Texas.
Although the system worked from day one on the market, it has been continually refined and developed over the last 20 years.
There's no real contradiction in this statement. The basic systems method of operation has remained constant, and that is the consistent pressurized application of a chosen wire rope dressing to wire rope as it passes through the lubrication collar. The process fills any open spaces within the immersed wire rope with fresh product.
However, Kirkpatrick has taken the process to a higher level by developing a sophisticated proprietary seal design that incorporates a system of interlocks and specifically sized lubrication chambers to match the diameter and configuration of the wire ropes being serviced. The design provides increased pressure so maximum penetration and coating is achieved with minimal lubricant loss on the toughest wire rope configurations. In addition, specially designed groove cleaners that strip out old material from the groove patterns of the wire rope as it enters the lubrication collar are part of the package.
Kirkpatrick sells to many different worldwide operations in shipping, offshore drilling, mining, and construc­tion, as well as to the United States Navy, U.S. Coast Guard, Army, and other military departments. What these customers all have in common are concerns about wire rope safety and longevity. However, the applications vary considerably. So Kirkpatrick, prior to selling any system, has someone within his organization, often himself, completely evaluate the potential customers application to match the right system to the actual jobsite application. This, even to the point of sometimes jumping an airplane to confirm the system matches their requirement. "I don't know how many good clothes I have ruined over the years." he says. "I need to micromanage everything and I have a hard time not jumping right in the middle of a jobsite operation to verify information or make certain the system is performing to specification. My wife, Valerie is not only an integral part of our business but has also become an expert at removing every kind of grease and oil from my clothes. It's second nature to her now," he states.
Moreover the sale is simply the start. Kirkpatrick is committed to serving that customer for life. He takes a video camera to every jobsite so he can review and visually review what occurred during the trip. As a conse­quence, he has accumulated an extensive film library over the last 20 years documenting just about every kind of field application where his systems are used. A database has also been created that incorporates 4,000 to 5,000 data entries tracing the history of every system sold. Kirkpatrick states, "We can pull up everybody we've spoken to for the last 15-20 years and review the specifics concerning their jobsite application or what their needs were when they initially contacted us. We do our homework."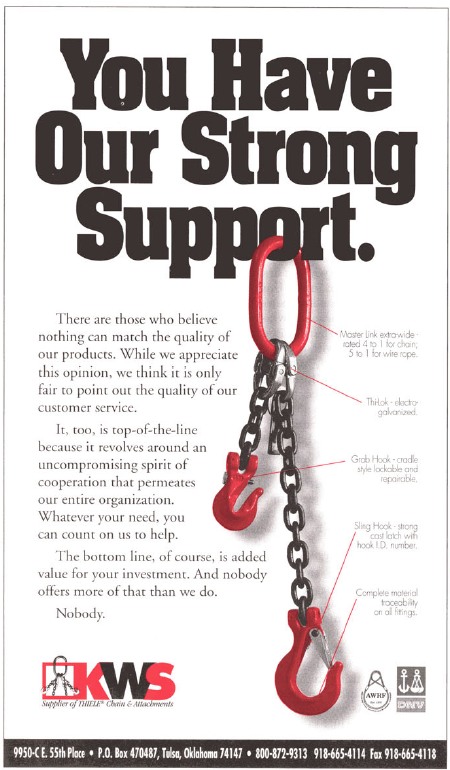 The conscientiousness has paid off. The system has been subjected to some very detailed independent evaluations. The first involved Naval Sea Systems Command testing which was initiated in 1983 to verify that the system could apply and penetrate military wire rope using heavy, highly viscous MIL-SPEC grease. The testing covered a time span of four years and incorporated over 10 onsite demonstrations at locations ranging from Pearl Harbor, Hawaii to New York Harbor, Port Hueneme, California, Long Beach, California, Port Everglades, Florida, and Norfolk, Virginia. Since then there have been two more evaluations implemented by other Naval sections in the late 1990's at facilities on both the east and west coasts. In all cases the systems performance surpassed methods previously used in their preventative maintenance schedules for wire rope. As a result, several system models have been placed on U.S. Navy Allowed Equipment Lists, a five-year supply contract received, and over 47 U.S. Government National Stock Numbers have been assigned to the Kirkpatrick products including their Dynagard Environmental Wire Rope Lubricants. Kirkpatrick says, "Over the last 20 years we have outfitted just about every Navy and Coast Guard vessel that would have a use for the system. There are about 600 at this juncture. One evaluation stated that the use of our system shipboard would save approximately $ 750,000 per ship over a 10 year period," he states.
Kirkpatrick knows he was the first to introduce such a system in the United States. Worldwide, he is not too sure. "I know none were operational when I began our program." What he is sure about, however, is that with the success his company has enjoyed, he now has some competition. When asked whether he has the largest market share. Kirkpatrick says he can't answer that for sure because of the nature of the competition. I do know if market share was based on systems being purchased that have become an integral and consistent part of a customers maintenance program, we have no competition. Too many times we have been contacted by companies that have purchased a competitive applicator to provide parts and technical support for the product because the customer cannot get satisfaction from the supplier who sold them the system. Unfortunately we cannot help them. I always ask, "Why didn't you give us a shot. The answer usually comes back that they were told it does the same thing and that they already purchased other products from the supplier such as wire rope, winches or lubricants. Let me just say that in 20 years our company has never lost a deal to another supplier if the customer took the time to compare apples for apples and review the information we supply. Our first priority is the manufacture and supply of wire rope pressure lubrication systems. We do not piggyback it on other product lines. This is the cornerstone of why we are still in business.
Kirkpatrick says he has had fairly large orders for his systems but not before the customer purchased one or two to understand what is .involved. "We recently received just such an order from a shipping company that purchased 9 systems sight unseen from a competitor. They were fairly burned out about the whole process by the time we were contacted. Understandably, they wanted demos and guarantees from us that were not required from the previous supplier. I told them that our systems track record was fully docu­mented and that if that was not enough then let's make it easy for both parties: Purchase one and let us train one of your ship's crews and we will stay on top of the situation. That was two years ago and we just received an order for 8 more systems. Customer support is what it is all about."
Kirkpatrick takes the time to do it right. New potential users fill out a questionnaire and receive a field application video that has been edited to closely approximate their applica­tion. Every effort is made to under­stand the job fully so the right system can be adapted to match it . .Kirkpatrick states, "There are many variables that need to be understood prior to supply­ing a system and our questionnaire greatly assists our customers and ourselves in establishing what is best for the job. There have been instances when we tell them that another method is better after a review of their informa­tion."
To ensure operational integrity, Kirkpatrick sells only complete systems. One quotation for 17 systems and another for 10 were turned down because the customer wanted to purchase without pump packages and use their own. "It's tough sometimes and we could use the sale. I know our competition will sell incomplete systems, but operational and trouble­shooting integrity can not be assured if half of the system is an unknown variable with which to contend when or if problems occur," he states.
One would think that everybody should now be using Kirkpatrick's system, or at least one similar to his. But he says, "A lot of people still do it the old fashioned way." Some of them he acknowledges may be small operations for which this form of wire rope maintenance is not cost effective due to the size and length of their ropes. But he mentions one mining customer that was lubricating every 10-12 days with a spray applicator. "They were a hard sell. I told them the lubrication they were doing couldn't be very good if they had to do it that often," Kirkpatrick says. "A lot depends also on the quality of lubricant being applied not just the method used to apply it. Although it may not be true in all instances, if the lubricant is of good quality and our system is used, a quarterly maintenance schedule should be sufficient for most applica­tions. ln fact the aforementioned customer now has been using our system for 10 years and does the ropes 3 times per year. That's quite a difference from three times per month."
Kirkpatrick, 51 has been married 29 years. He, and his wife, Valerie, have two children, Tyler. who works in computer support, and Ryan, who attends the University of Oklahoma. His hobby is golf, and watching his son, Ryan play collegiate tennis when he has the time. He starts work at 8:00 AM and often is still in the office at 10:00 PM. He tries to take weekends off, at least part of them, but doesn't always succeed. But he doesn't think of himself as a workaholic. He obviously loves what he is doing. He's brought something brand new to the industry, and not many people can say that.
Technical features of the Kirkpatrick Wire Rope Lubrication Systems include: Wire Rope diameters in millimeters and inches are accommodated up to 4″ (lOlmm)New this year: Proprietary 4,000 psi internalized power spray units for controlled application of low viscosity coatings for wire rope diameters up to 2-1/4″ (64mm).Seals diameters up to 105 square inches of sealing area.
Newly introduced tough propri­etary space age polyurea seal material provides longer seal life than any product offered to date against friction wear and chemical breakdown.
Proprietary seal interlock and specifically sized internal lubrica­tion chamber design provides the user the ability to adjust to specific wire rope diameters and/or configu­rations for greater internal pressur­ization and coating control.
The lubricant delivery system has evolved from performance technol­ogy learned from hundreds of field maintenance applications over the last 20 years. Thus maximum operational performance in the most severe job environments is ensured.
Special Gauge assembly allows user to accurately control existing fluid pressure contained within the seals during operation.
Groove Cleaners clean both the surface and groove patterns for better penetration prior to the lubrication process.
Manual Stripper allows user the ability to clean the wire rope surface for inspection purposes separate from the lubrication process.
A compete parts inventory is maintained to provide immediate parts support to users worldwide.
A password protected website offers downloadable operational and technical information. The website for basic information is www.thekirkpatrickgroup.com.