Skip to Content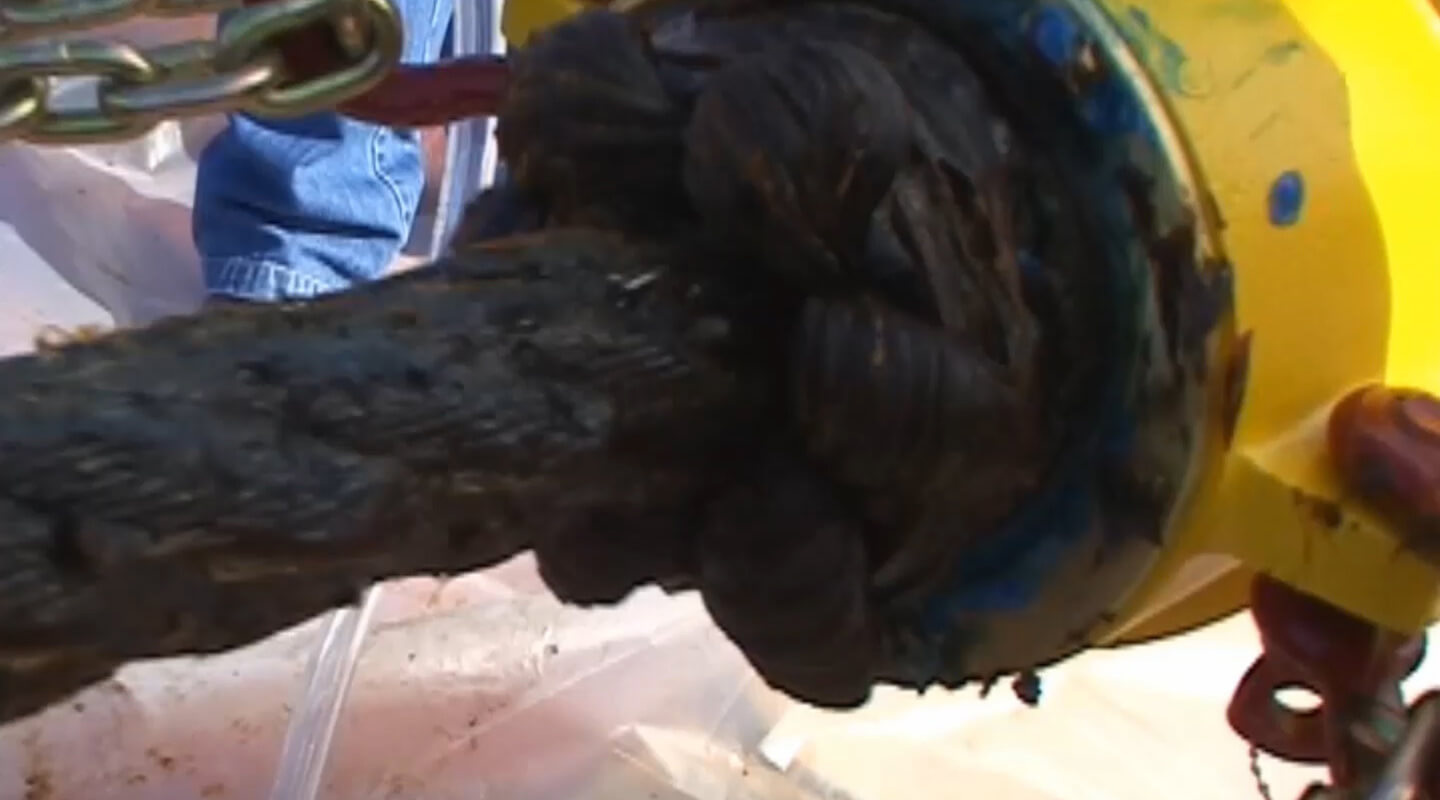 The Kirkpatrick Group Inc.
Dynagard™ Environmentally Safe Wire Rope Lubricants
Since 1982
Wire Rope Lubrication Systems to Support Our Worldwide Customer Base
The Kirkpatrick name, in support of our customers worldwide maintenance requirements, extends back to 1967. This support first addressed mechanical maintenance for our fleet of 450 Link Belt heavy lift cranes and hydraulic excavators dispersed world wide on major construction projects. Our company; Kirkpatrick &  O'Donnell Const. Equipment was one of the major equipment suppliers for the building of the Alaska Pipeline project that had an immense effect on Alaska, the United States as a whole, and the rest of the world in the 1970s.
In 1982, as The Kirkpatrick Group Inc., we developed and introduced wire rope pressure lubrication systems into the world market. First used successfully on our own fleet of cranes for boom hoist and load line maintenance; their use has now expanded into every type of maintenance program where wire rope longevity and safety are a major concern. Their superior performance has saved our customers millions of dollars in wire rope replacement costs over the 40 years we have been in business. Therefore, our reputation and field experience far exceed any other producer of similar products trying to duplicate our success that have followed us.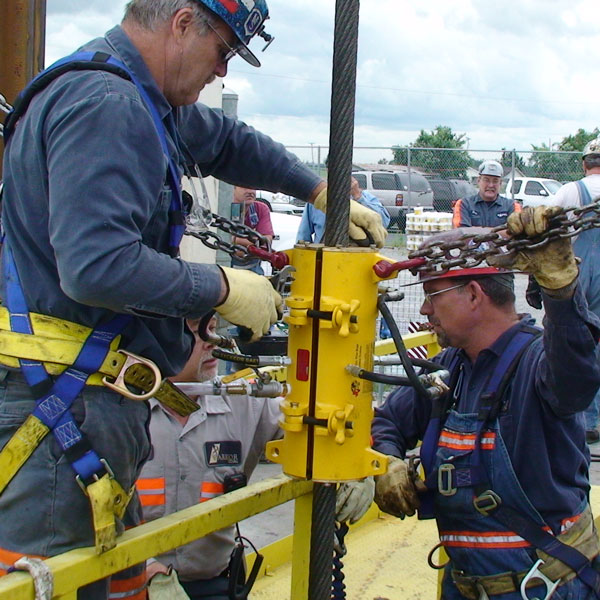 Maximum Lubricant Penetration that Keeps Wire Rope in Optimal Condition Over the Long Term
Our users can always expect excellent performance from any one of our Kirkpatrick wire rope lubrication systems. Their superb engineering provides unmatched strand lubrication and cleaning benefiting customers in any industry where wire rope maintenance is a priority. The Wire Rope Surface and groove pattern are scraped clean of penetration blocking debris and product buildup as the wire rope surface is uniformly coated with new lubricant. Every space within the wire rope open to receive the newly applied wire rope lubricant is filled.
Optimum penetration occurs as the wire rope being serviced passes through a controlled 100% pressurized immersion within the system's internal seal lubrication chamber. This immersion displaces any entrapped surface moisture within the rope's internal strands and replaces it with the newly applied coating product. You can trust Kirkpatrick systems' functionality with high- and low-viscosity coatings. Higher viscosity coating products maximize fluid film support against strand rubbing that can shorten any working ropes life due to friction wear. In the event your application requires low viscosity coatings such as a mining friction hoist; our systems easily apply those products as well accommodating high wire rope travel speeds.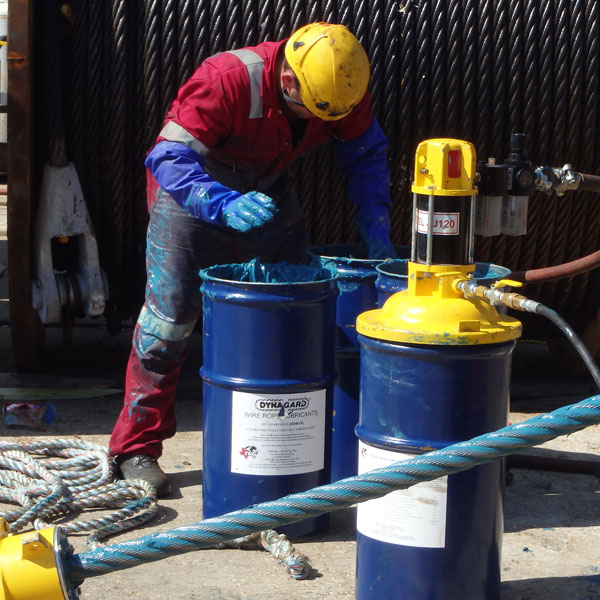 Wire Rope Lubricants Blended to Meet Your Toughest Environmental and Maintenance Challenges
The Kirkpatrick Group Inc. has taken a great deal of time to decide the characteristics our lubricants should possess to address our users' stringent requirements for environmental factors, as well as corrosion and wear. We formulated our lubricants to provide the most complete coating and penetration possible for wire rope, including our Dynagard™ LVL, Dynagard™ "E," Dynagard™ "Blue," and Dynagard™ Blue CSS13 lubricants. The United States Coast Guard, the United States Navy, the United States Army Corps of Engineers, and many other worldwide government organizations have used our lubricants because of their environmental field performance. If you have any questions about our equipment or lubricants or want to start an order, you're welcome to contact us today.
Reviews
Manual Wire Rope Preventative Maintenance of all of the ships' wires was taking a week to complete. Now, since receiving the Model SU35B Wire Rope Lubricator, the time to complete the project has been reduced to 1 day with fewer shipboard personnel involved.
Using the Kirkpatrick Model SU35B Wire Rope Lubricator and Dynagard™ Environmental Wire Rope Lubricants has increased their rope life from 2 – 3 years to 8 or 9 years. The job is now performed in one day over the 2 or 3 days it took previously.
Hello Bob, I tried your wire rope lubricator today for the first time and I can only say wonders about it. It has cut by 90% the time we have to spend on lubricating our skip hoist and it does a much better job than our old method of using rags.
Dynagard™ "E" Environmental Wire Rope Lubricant is still protecting his 3/4″ ropes after 6 years.
Brad used to be with the United States Coast Guard in Key West, Florida and used the Kirkpatrick SU35B Wire Rope Lubricator there. He said his crew used to laugh at other sources on the base who continued with hand maintenance for their wire ropes. They would take 10 hours to complete what he and his crew could do in 2 or 3 using the Kirkpatrick System.