Skip to Content
Seal & Scraper Plate Kits
Standard, Jumbo, and Jumbo Internal Spray (JUL), Seal & Scraper Plate Kits
Average Weight: Jumbo Seal & Scraper Plate Kits: 16 Pounds/7.2 Kilograms
Average Weight;
Standard Seal & Scraper Plate Kits: 5 Pounds / 2.25 Kilograms
Customers specify the diameter of their Wire Rope when placing order.
One diameter Seal & Scraper Plate is included as part of the Complete System Package. Additional Wire Rope diameters require corresponding diameter Seal & Scraper Plate Kits at an added cost per Kit.
The Lubrication Collar Seal Halves fit securely around the Wire Rope generating optimum pressurization to maximize penetration.
Two-Halved metal Scraper Plate Sets. (2 sets provided and attach to each end of the Lubrication Collar creating a rotational base for the Groove Cleaners as well as function to smooth the newly applied coating to the Wire Rope Surface as it exits the Lubrication Collar.
All Seal Kits consist of specially formulated, durable Polyurea materials that provide better long-term protection against chemical and friction wear over the less durable Nitrile materials typically used in other Wire Rope servicing applications. A compression factor of 1 to 2 millimeters is built in providing better fit in the event the Wire Rope being treated is marginally oversized.
The Seal Lubrication Chamber design is sized to accommodate several different ranges of Wire Rope Diameters. This feature provides optimum internal pressure to maintain controlled Lubricant penetration no matter what the diameter and configuration of the Wire Rope.
Proprietary Seal interlock design increases penetration and coating performance by directing Lubricants through and around hard to penetrate Wire Ropes from the Centered Lubrication Chamber toward each end.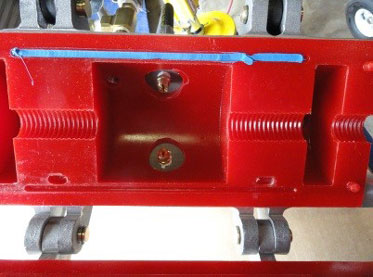 Jumbo Internal Spray Models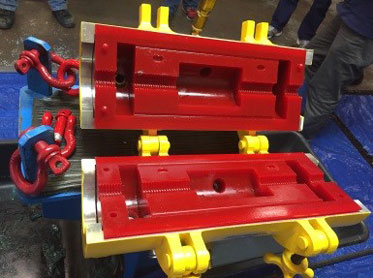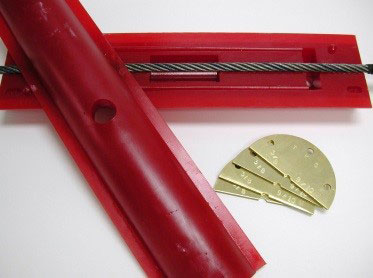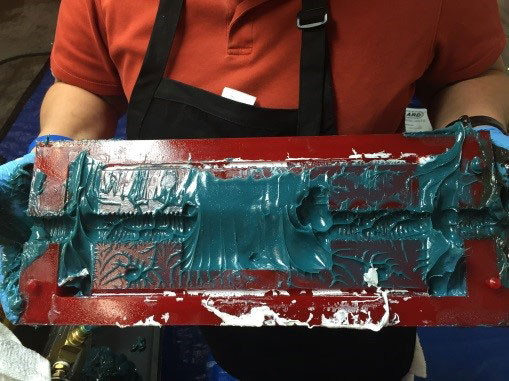 Jumbo Seals Removed after Lubrication Complete
Note the Complete Containment of the Wire Rope Lubricant around the Outer Perimeter of the Seal due to the built-in Interlock Design. This equates to Achieving Optimal Internal Pressurization.
Depend on The Kirkpatrick Group Inc.
for Wire Rope Maintenance