Skip to Content
Dynagard™ Blue CSS13 Environmental Wire Rope Lubricant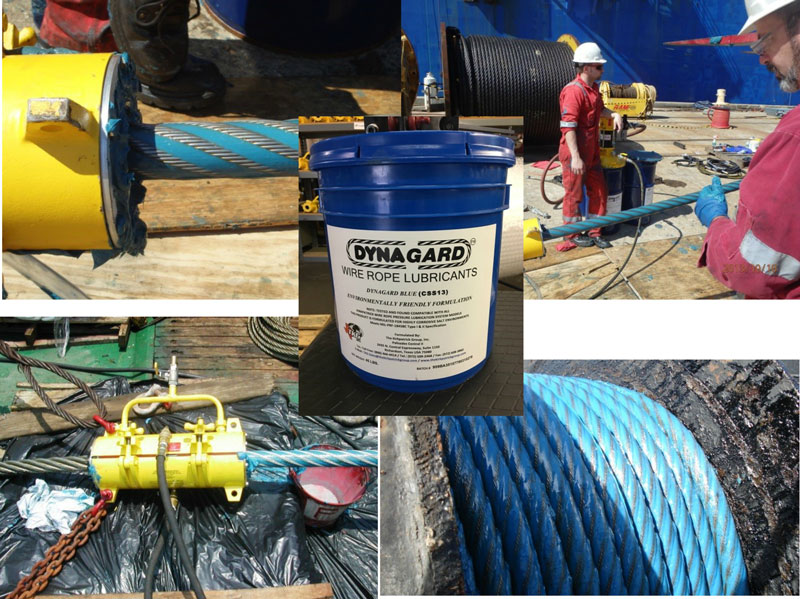 Dynagard™ Blue CSS13  is formulated with a high viscosity base oil and engineered with a unique combination of additives to create the highest level of adhesion performance against fling off at high-speed Wire travel. It is also designed to resist water wash off in severe working marine environments.
This heavy duty coating product is for all maintenance applications where there is a high degree of friction wear due to critical workloads. With Dynagard™ Blue CSS13  optimal levels of fluid film protection against friction wear inside the Wire Rope are possible because of its specialized formulation. The same superior fluid film performance and adhesion also generate the perfect protection against corrosion in both salt and freshwater environments.
Due to its excellent water repellency, CSS13 is resistant to water wash off. It also has a wide operation temperature range, preventing both softening and extreme hardening within the most severe working environments. Dynagard™ Blue CSS13 has one of the safest marine Bio-Aquatic LC50 ratings at over 19,000 PPM (Mysidopsis Bahia @ 48 Hours).
Dynagard™ Blue CSS-13 Environmental Wire Rope Lubricant Specifications
NLGI Grade (ASTM)
Grade 2
Thickener Type
Calcium Sulfonate
Color
Blue
Marine Bio-Aquatic LC50: 48 Hours
· Salt Water/Mysidopsis Bahia
19,922 PPM
Base Oil Viscosity (ASTM D445)
316˚C/601˚F
SUS @ 100˚F
2468
SUS @ 210˚F
148.2
. cST   @ 40˚C
460
. cST   @ 100˚C
30.2
VI
>94
Drop Point ˚F (ASTM D2265)
+550˚F
Worked Penetration: @ 25˚ C = (ASTM D217)
265-295 Typical
Changed after 100,000 Strokes (ASTM D217)
<+20
Oil Separation 25˚C, 24 Hours, % (ASTM D1742)
<1.0
Four Ball Weld Load, Kilograms (ASTM D2783)
500
Timken OK Load, Kilograms (ASTM D2783)
65
Wear Scar Diameter, mm (ASTM D2266)
.45
Water Washout, Weight % loss @ 175F (ASTM 1264)
1.3
Water Spray Test, Hours (ASTM B117)
1000 Hours
Rust Test Rating (ASTM D1743)
Pass
Depend on The Kirkpatrick Group Inc.
for Wire Rope Maintenance