Skip to Content
Jumbo Internal Spray Models
Kirkpatrick Jumbo Internal Spray Wire Rope Lubrication Systems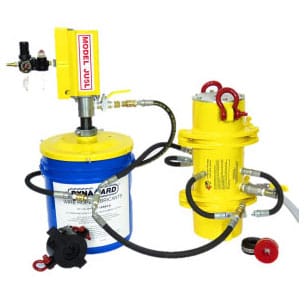 JUL Internal Spray Systems are provided in three different Models:
The Systems are equipped to apply lightweight oil viscosities through four 4,000 PSI pressure rated Spray Nozzles. They are also equipped to apply low flow greases as well depending on the coating product or Wire Rope Preventative Maintenance Program for which they are being used.
JUL System being used at Alliance Coal in Indiana, USA. Low Viscosity Dynagard™ LVL™ being applied. One image shows Dynagard™ LVL coated Wire Rope exiting after passing through the pressurized Lubrication Collar. Another image shows excess Dynagard™ LVL™ traveling into catch pail for possible recycling.
Kirkpatrick Jumbo Model JU5L Wire Rope Lubrication System
Internal Spray System fit for 35 Pound / 15.75 Kilogram / 5 Gallon / 18.92 Liter Sized Pails
System accommodates Wire Rope Diameters up to 2-1/4 Inch (58mm) when used for Low Viscosity Oil Applications
System accommodates Wire Rope Diameters up to 4-3/8 Inch (110mm) when used for High Viscosity Grease Applications
1

Heavy Duty, Light Weight Aluminum Lubrication Collar


Wire Rope Diameters to 2-1/4 Inch 58mm (Oil), to 4-3/8 Inch 110mm (Grease)




Complete with four 4,000 PSI Rated Spray Nozzles.

1

One Diameter Seal & Scraper Plate Kit:


Scraper Plates are part of the Seal and Scraper Kit and are not sold at an additional charge as is the case with competitive brand Wire Rope Lubrication Systems.




The Customer specifies the Diameter Seal & Scraper Plate Kit required when placing their order.

2

One Diameter & Lay Wire Rope Groove Cleaner Kit:


Includes 2 Individual Groove Cleaners (4 Parts)




The Customer specifies Diameter, the Number of Outer Strands and Lay Direction


Note: Our Competition Charges this item as an additional component apart from their Complete System and then only provides one individual Groove Cleaner, not two as is the case with Kirkpatrick supplied Groove Cleaner Kits.

1

Manual Wire Rope Stripper and Centering Bushing


Accommodates Wire Rope Diameters up to 52mm (MS-9110) or 108mm (MS-9111)




The Centering Bushing Diameter should match the Wire Rope / Seal Kit Diameter

1

50:1 Ratio Pump (Includes One Pump Repair Kit)


Maximum Flow Rate (Oil): 6 Gallon per minute / 22.71 Liters per minute at 120 PSI Air Pressure




Maximum flow Rate (Grease): 8 Pounds / 3.6 Kilograms per minute at 120 PSI Air Pressure

1

35 Pound / 15.75 Kilogram / 5 Gallon Sized Follower Plate

1

35 Pound / 15.75 Kilogram / 5 Gallon Sized Pail Cover

1

Air Regulator / Filter/ Oiler Assembly with Gauge. 150 PSI Rated               

1

7,000 PSI Rated Stainless Steel Lubricant Flow Control Valve,

1

2,500 PSI Rated 10 Foot / 3-Meter Lubricant Supply Hose


·  Complete with Brass Push to Pull Quick Couplers




·  Custom lengths available upon request.

1

Duo-Lube Assembly for Two-Sided Lubricant Feed, 2,500 PSI Rated

1

Heavy Duty Storage Case Approved by Military & Law Enforcement
Kirkpatrick Jumbo Model JU16L Wire Rope Lubrication System
Internal Spray System fit for 120 Pound / 54 Kilogram / 16 Gallon / 56.78 Liter Sized Drums
System accommodates Wire Rope Diameters up to 2-1/4 Inch (58mm) when used for Low Viscosity Oil Applications
System accommodates Wire Rope Diameters up to 4-3/8 Inch (110mm) when used for High Viscosity Grease Applications
1

Heavy Duty, Light Weight Aluminum Lubrication Collar


Wire Rope Diameters to 2-1/4 Inch 58mm (Oil), to 4-3/8 Inch 110mm (Grease)




Complete with four 4,000 PSI Rated Spray Nozzles.

1

One Diameter Seal & Scraper Plate Kit:


Scraper Plates are part of the Seal and Scraper Kit and are not sold at an additional charge as is the case with competitive brand Wire Rope Lubrication Systems.




The Customer specifies the Diameter Seal & Scraper Plate Kit required when placing their order.

2

One Diameter & Lay Wire Rope Groove Cleaner Kit:


Includes 2 Individual Groove Cleaners (4 Parts)




The Customer specifies Diameter, the Number of Outer Strands and Lay Direction


Note: Our Competition Charges this item as an additional component apart from their Complete System and then only provides one individual Groove Cleaner, not two as is the case with Kirkpatrick supplied Groove Cleaner Kits.

1

Manual Wire Rope Stripper and Centering Bushing


Accommodates Wire Rope Diameters up to 52mm (MS-9110) or 108mm (MS-9111)




The Centering Bushing Diameter should match the Wire Rope / Seal Kit Diameter

1

50:1 Ratio Pump (Includes One Pump Repair Kit)


Maximum Flow Rate (Oil): 6 Gallon per minute / 22.71 Liters per minute at 120 PSI Air Pressure




Maximum flow Rate (Grease): 8 Pounds / 3.6 Kilograms per minute at 120 PSI Air Pressure

1

120 Pound / 54 Kilogram / 16 Gallon / 56.78 liter Sized Follower Plate

1

120 Pound / 54 Kilogram / 16 Gallon / 56.78 liter Sized Pail Cover

1

Air Regulator / Filter/ Oiler Assembly with Gauge. 150 PSI Rated               

1

7,000 PSI Rated Stainless Steel Lubricant Flow Control Valve,

1

2,500 PSI Rated 10 Foot / 3-Meter Lubricant Supply Hose


·  Complete with Brass Push to Pull Quick Couplers




·  Custom lengths available upon request.

1

Duo-Lube Assembly for Two-Sided Lubricant Feed, 2,500 PSI Rated

1

Heavy Duty Storage Case Approved by Military & Law Enforcement
Kirkpatrick Jumbo Model JU55L Wire Rope Lubrication System
Internal Spray System fit for 120 Pound / 54 Kilogram / 16 Gallon / 56.78 Liter Sized Drums
System accommodates Wire Rope Diameters up to 2-1/4 Inch (58mm) when used for Low Viscosity Oil Applications
System accommodates Wire Rope Diameters up to 4-3/8 Inch (110mm) when used for High Viscosity Grease Applications
1

Heavy Duty, Light Weight Aluminum Lubrication Collar


Wire Rope Diameters to 2-1/4 Inch 58mm (Oil), to 4-3/8 Inch 110mm (Grease)




Complete with four 4,000 PSI Rated Spray Nozzles.

1

One Diameter Seal & Scraper Plate Kit:


Scraper Plates are part of the Seal and Scraper Kit and are not sold at an additional charge as is the case with competitive brand Wire Rope Lubrication Systems.




The Customer specifies the Diameter Seal & Scraper Plate Kit required when placing their order.

2

One Diameter & Lay Wire Rope Groove Cleaner Kit:


Includes 2 Individual Groove Cleaners (4 Parts)




The Customer specifies Diameter, the Number of Outer Strands and Lay Direction


Note: Our Competition Charges this item as an additional component apart from their Complete System and then only provides one individual Groove Cleaner, not two as is the case with Kirkpatrick supplied Groove Cleaner Kits.

1

Manual Wire Rope Stripper and Centering Bushing


Accommodates Wire Rope Diameters up to 52mm (MS-9110) or 108mm (MS-9111)




The Centering Bushing Diameter should match the Wire Rope / Seal Kit Diameter

1

50:1 Ratio Pump (Includes One Pump Repair Kit)


Maximum Flow Rate (Oil): 6 Gallon per minute / 22.71 Liters per minute at 120 PSI Air Pressure




Maximum flow Rate (Grease): 8 Pounds / 3.6 Kilograms per minute at 120 PSI Air Pressure

1

120 Pound / 54 Kilogram / 16 Gallon / 56.78 liter Sized Follower Plate

1

120 Pound / 54 Kilogram / 16 Gallon / 56.78 liter Sized Pail Cover

1

Air Regulator / Filter/ Oiler Assembly with Gauge. 150 PSI Rated               

1

7,000 PSI Rated Stainless Steel Lubricant Flow Control Valve,

1

2,500 PSI Rated 10 Foot / 3-Meter Lubricant Supply Hose


·  Complete with Brass Push to Pull Quick Couplers




·  Custom lengths available upon request.

1

Duo-Lube Assembly for Two-Sided Lubricant Feed, 2,500 PSI Rated

1

Heavy Duty Storage Case Approved by Military & Law Enforcement
Depend on The Kirkpatrick Group Inc.
for Wire Rope Maintenance