Skip to Content
2023 Crane & Rigging Workshop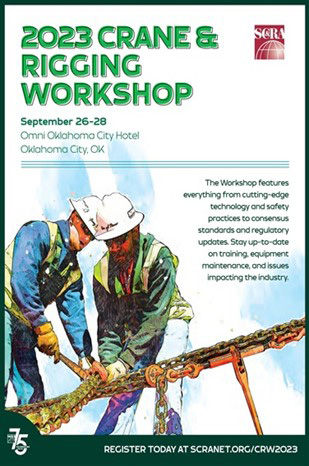 Conducted annually in September, the Crane & Rigging Workshop represents the industry's premier crane and rigging event of the year, and brings together hundreds of top managers, safety directors, legal experts, operations personnel, and crane operators from many of the industry's foremost companies.
Covering everything from legal education, consensus standards, and regulatory updates to cutting-edge technology and safety practices, Workshop sessions also emphasize training, equipment maintenance, and current issues affecting the industry. Similar to every SC&RA event, networking opportunities at the Workshop are world-class (with nearly a dozen countries represented), and the Exhibit Center, featuring over 90 booths, has sold out each year for nearly two decades.
An additional highlight of the Crane & Rigging Workshop is the committee meetings: Safety Education & Training, Labor and Governing. These gatherings allow attendees to gain an understanding of SC&RA activities in specific industry areas and identify other Association members who are confronting similar issues with whom they can network.
If you're looking to put faces with names, gain awareness on common/current challenges, share information, and network, network, network, then the SC&RA Crane & Rigging Workshop is a must-attend for you and your business.
REGISTER TODAY AT SCRANET.ORG/CRW2023